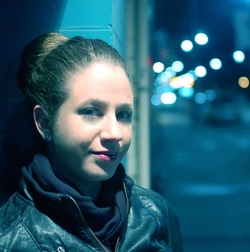 Liat Shalom is a Toronto based Web & Graphic designer, who specializes in branding, E-commerce and social media marketing. She has a background as an illustrator and animator, and is a member of the Directors Guild of Canada, where she works in the art department.
Her work appears in many formats, including Web design, Animation, Graphic design, branding editorial illustration, gallery shows, apparel designs, murals, and installations.
Liat is a graduate of OCAD University with a BA in Illustration and Expanded Animation. Liat has a background in New Media studies at Ryerson University and Printmaking from Dawson College in Montreal, Quebec.
Liat is a Digital Marketing and communications professional with 6+ years of experience. Demonstrated success building brand awareness, creating and managing websites and web marketing accounts to create a large online following. She has Exceptional design skills and is a mac maverick with a mixed media education ranging from Animation, filmmaking, web design, graphic design, illustration, and printmaking.
In her personal art practice, Liat strives to create art that evokes thought, by juxtaposing humor and reality along with underlying political occurrences. Her work aims to encourage discourse, evoke thought, and raise awareness to issues that plague the world. Specializing in Jewish Themes in her work, she is a self-proclaimed "jack of all trades, master of whatever you need". Like a perfectly simmered kneidlach, Liat's work aims to satisfy a void she feels that there is in the modern Jewish Art Scene that connects illustration and humor together with politics and religion and aims to bring it to the foreground of pop culture.